---
Above is a picture of myself and my QTH. That's my Shack on the right. My old Ringo Ranger II is visible from the roof top. The GAP Titan vertical is located behind the Shack, and my old Carolina Windom is invisible up in the trees behind the Shack.
I am 75 years old and retired from 33 years in electronics for ten years now, and enjoy Amateur Radio and my computer. I live alone. I became a ham in 1985 with a Novice Class liscense. I held my Novice Class liscense until 1993 when I earned my Extra Class. I worked CW only during this 8 year period and worked all States and many countries around the world. So, as you can see, I am an old "Brass Pounder" at heart.
---
"Ghost Riders in the Sky"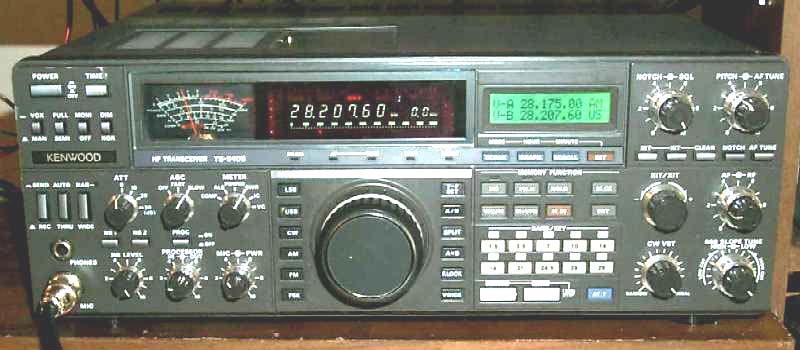 My HF Station Rig---Kenwood TS-940-S
| | | |
| --- | --- | --- |
| | | |
| My HF back up and mobile Rig---Icom IC-706HKIIG | | My mobile VHF rig---Alinco DR-150T |
| | | |
| --- | --- | --- |
| | | |
| Yaesu FT-2400M | | Kenwood TM-261A |
I use the Yaesu FT-2400M for my station rig and the Kenwood TM-261A for APRS and packet.
That is my set up here at this Shack.
---
HF antennas are:
A Carolina Windom horizontal dipole (all band)
GAP Titan all band vertical ground mounted in the back yard.
VHF antennas are:
Homebrew 5 element beam
A Diamond Model-F23A
A Ringo Ranger II Model ARX2B
A Cushcraft CA1147M mobile
The GAP Titan works great on DX to Europe and South America from my QTH
The old homebrew Windom horizontal off center dipole works well for working the nets
and local rag chewing. It also works well on DX almost as well as the GAP Titan
On VHF the little hombrew 5 element beam works as well or better than the
Diamond F23A and the Ringo Ranger II ARX2B
The little Cushcraft CA1147A mobile antenna is a great little antenna
and works very well for me when I am working mobile
---
Below are a few pictures taken from Field Day 2000
Tower Moundain, Leslie County, Kentucky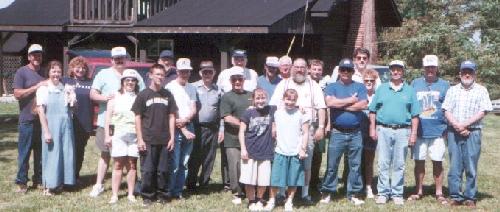 Some of the folks at Field Day 2000 on Tower Mountain, Leslie Co. Kentucky
&nbsp
A coupla more picture of some of the folks that attended Field Day 2000 on the Hill.
We all had a wonderful and unforgetful time together, meeting new friends and socalizing.
| | | | | |
| --- | --- | --- | --- | --- |
| | | | | |
| Our fine Chef at work | | Rick KR4YP | | Zach KE4BHZ----can't wait! |
Don KN4M getting the job done
(Antennas had to be put in place)
Sophia KG4FYK and Paul WB4OEF
(Racking up points on Morse Code)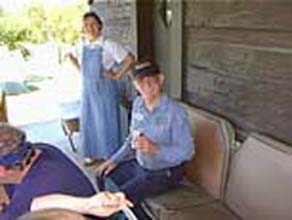 And last, but not least, is me...Ol' AD4DX
(Just sitting back and enjoying the festivities)
---
It was a great time had by all. We hope to have our annual Field Day on Tower Mountain again next year.
If you can possibly make it, we would love to have you come and join us....IT'S FREE...the good food and all.
I hope you enjoyed your visit and come back again real soon.
Until next time, 73 and happy DX'ing
---Willis (AD4DX)
---
Send comments or suggestions to the Webmaster
---
Copyright © 1998-2005
( All rights reserved)
---